Investigation by INDEPEDNENT indicated that the FAA team, which was led by Louis Avrez, International Technical Support and three others, expressed satisfaction with the high level of enforcement and compliance mechanism put in place by NCAA to further boost safety in the sector especially among the airline operators in the country.
The team specifically observed that the enforcement and compliance team of NCAA had helped in ensuring safer airspace in the country in the past four years, which has led to zero accident in the sector in the past four years.
The last major air crash Nigeria experienced was the Associated Airlines crash, which occurred few seconds after take-off at the Murtala Muhammed Airport (MMA), Lagos, in 2013. No fewer than 16 of the 20 souls on-board perished.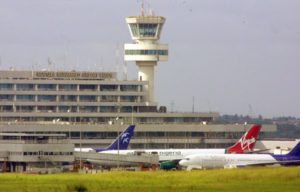 The aircraft was carrying the corpse of the former Ondo State governor, Olusegun Agagu, to the state for burial before it crashed.
27 Months Sanctions
Investigation by INDEPENDENT revealed that between October 2014 and December 2016, NCAA sanctioned a total number of 79 safety violators especially airlines, pilots, engineers and security outfits.
Some of the sanctions included 11 pilots, three crew members, two aircraft engineers, one approved maintenance organisation (AMO) and suspension of a private security outfit for violating safety in the sector.
Also, NCAA within the period, fined violators of safety in the sector a total sum of N133.6 million to serve as a deterrent.
A document made available to INDEPENDENT by an industry source, indicated that the regulatory body in October 2014, grounded an airline's aircraft for operating an aircraft beyond the six-year maintenance due date, which is a serious safety violation, as it could lead to accident.
Also, in November 2014, NCAA sanctioned another airline for operating an aircraft without an escalation approval while another airline in December of the same year was issued a warning notice for its failure to provide aircraft approved maintenance programme (AMP) to aircraft maintenance organisation (AMO) that maintains its aircraft.
Besides, another carrier in the same month of December 2014 was fined N4 million for violation of flight clearance by the pilot. The regulatory agency also issued a warning notice to another airline in December of the same year for "unsatisfactory financial health."
In January 2015, NCAA sanctioned a total number of airlines and a pilot for numerous safety violations ranging from carrying out of pre-flight inspection procedure without using the prescribed checklist, non-entry of defects in the aircraft technical logbook, delays and cancellations of flights, maintenance without current manual and improper work environment, and failure to submit financial returns and irregularities in maintenance procedures and records.
In all, NCAA fined two airlines a total sum of N6 million; N3 million each for safety violations in the sector.
In February 2015, only two airlines were sanctioned with total sum of N14.2 million as fine.
The affected carriers, according to the document, were sanctioned for "late reporting of MOR, operating an un-airworthy aircraft, operating the aircraft using bogus nose wheel without airworthiness approval" and "operating of aircraft after the expiration of FOCC and MCC."
The regulatory agency sanctioned five airlines and a security firm, Proton Security Services Limited, for safety and security violations in March 2015 with a total sum of N30.5 million sanctions to two of the defaulting carriers.
One of the airlines was fined N12.5 million for "operating outside the operations specifications approved by the authority" while the other was imposed a fine of N18 million for "failure to record snag and maintenance action."
NCAA, according to the document, suspended operation of Proton Security Services Limited for security violation and also issued letter of investigation into the activities of an airline for delays and cancellation of flight.
Two airlines were issued "warning notice" in April 2015 for "failure to file copies of agreement" and "unfit financial health" in the month of April 2015.
Five sanctions were carried out on airlines with just N2 million fines in May 2015 for various violations and another two sanctions in the following month, June.
NCAA also instituted letter of investigation to an airline in July 2015 for "operating of aircraft after the expiration of FOCC and MCC" in July, 2015 and fined another airline N5 million in August 2015 for safety violation.
In September 2015, NCAA fined four airlines a total sum of N10 million for "non-filing of fares and tariffs", "expiration of FOCC, MCC, maintenance manual and record, i.e camp report on board the aircraft was outdated and some maintenance in the tech log were signed by non-licensed personnel," "deviation from clearances, providing false information in the applications for clearance and conduct of commercial operation," and "flying after expiration of flight clearance."
Three airlines were sanctioned in the month of October 2015 with one of the violators fined N1.2 million for "obtaining flight clearance on Falcon 900 Ex S/N 616 based on misleading information while the other was issued letter of investigation and letter of warning."
Between the months of November and December, a total number of nine airlines were sanctioned for violations with total sanction of N24.2 million within the period.
One of the most prominent sanctions among the nine carriers was that of Aero Contractors in December 2015 when it allowed "the use of ladder to disembark passengers from a Boeing 737-500 aircraft in the absence of ground handling services. The carrier was fined N200,000."
Between January 2016 and December of the same year, NCAA sanctioned 24 airlines, pilots, engineers and cabin crew for various degrees of violations.
Within the period, NCAA imposed financial sanction of N28.7 million on all categories of defaulters.
For instance, one airline was sanctioned N13.2 million for "breach of aviation security (AVSEC) directives and failure to adhere to approved security programme."
Another carrier was fined N9 million for "operation of an aircraft without a valid airworthiness certificate, special flight permit and FAA's special flight authorisation" and another airline for "operation of 10 flights with an expired medical certificate and the subject aircraft was not listed on their operations specifications, but was used to conduct 10 flights."
Stakeholder's Reaction To Financial Sanctions
An engineer with the defunct national carrier, Nigeria Airways, Charles Adekunle, said that the financial sanctions imposed on defaulting airlines and pilots were in compliance with international best practices.
Adekunle also said the essence of the fines was not for NCAA to earn revenues, but to serve as a deterrent to other intending defaulters, stressing that these sanctions would enable Nigeria to scale the hurdle of the recent FAA's audit of the industry and Med-View Airline.
He added that most of the N133.6 million financial sanctions between April and December 2016 were not remitted to the agency at a go by the defaulters, saying that NCAA usually work out an arrangement for the sanctions to be paid by the concerned companies and airlines.
"The financial sanctions on defaulters are only being anticipated and not received yet by NCAA. Some of the violators even appealed the fines. In most times, the financial sanctions are spread over five or 10 years by NCAA because the agency is not supposed to regulate the carriers out of operations, but to enable them remain in business."
By INDEPENDENT